Name: James Lambert – Help Olivia Appeal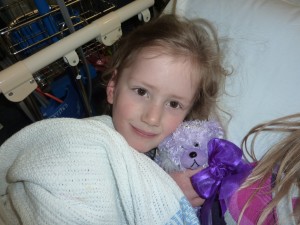 We have been devastated to recently find out that Olivia has relapsed again in her femur (leg) and bone marrow, and have now commenced a desperate fight to save her life!
As it is now evident that previous front line chemotherapy has not cured her, we really only have the option of palliative chemo in Australia.  We are not prepared to give up on our beautiful girl and have been searching the internet for treatment that will give her the best chance of survival.  We have found an antibody treatment in Germany that is showing promising results and we expect to relocate our family to in late August, after Olivia has completed one round of chemotherapy in Sydney.
Unlike chemotherapy, the antibody treatment only targets the cancerous cells.  Instead of poisoning the cells, it just puts a marker on the cancer cells that triggers the body's own immune system to destroy the rogue cells, in a similar manner to how it fights off an everyday infection.  We believe that this has the potential to be the biggest development in Neuroblastoma treatment in the last decade.
The antibody treatment and living expenses in Germany are expected to cost between $250,000 to $300,000.  If Olivia's condition is deemed to have deteriorated upon arrival in Germany, she may also require a stronger course of chemotherapy prior to starting the antibody treatment.  This could easily see the cost double – though we will do whatever it takes to give our girl the best chance of survival.
In order to minimize the financial strain on our own families, we have embarked on a public fundraising drive.   Donations will be gratefully accepted into the following account:  
 Account Name:   Olivia Lambert Foundation
 BSB:  062913
 ACC:  10751806
 We are also holding a fundraising dinner for Olivia at the Hellenic Club on 11th Sept 10.  There will be fabulous food, entertainment, an auction and Peter Overton as guest speaker.  Tickets will be on sale from 2nd Aug and can be purchased from the Help Olivia website (www.helpolivia.org.au), using the link below.We would like to take this opportunity to pass on our deepest heartfelt thanks to all our family and friends for their love and very generous support, as well as to the public for their generosity.